Dear Neighbors. This Sunday, we'll gather at the riverbank for the usual work, gathering seeds, weeding to protect the rare precious native plants, maintaining the path, but also we will be biking to volunteer as part of a fantastic local event, The Sustainability Market. (see below for more details)
We also wanted to make sure that everyone saw the cover of the Chicago Tribune. Click to read a few quotes in case you can't get past the paywall, or to link to the Trib article.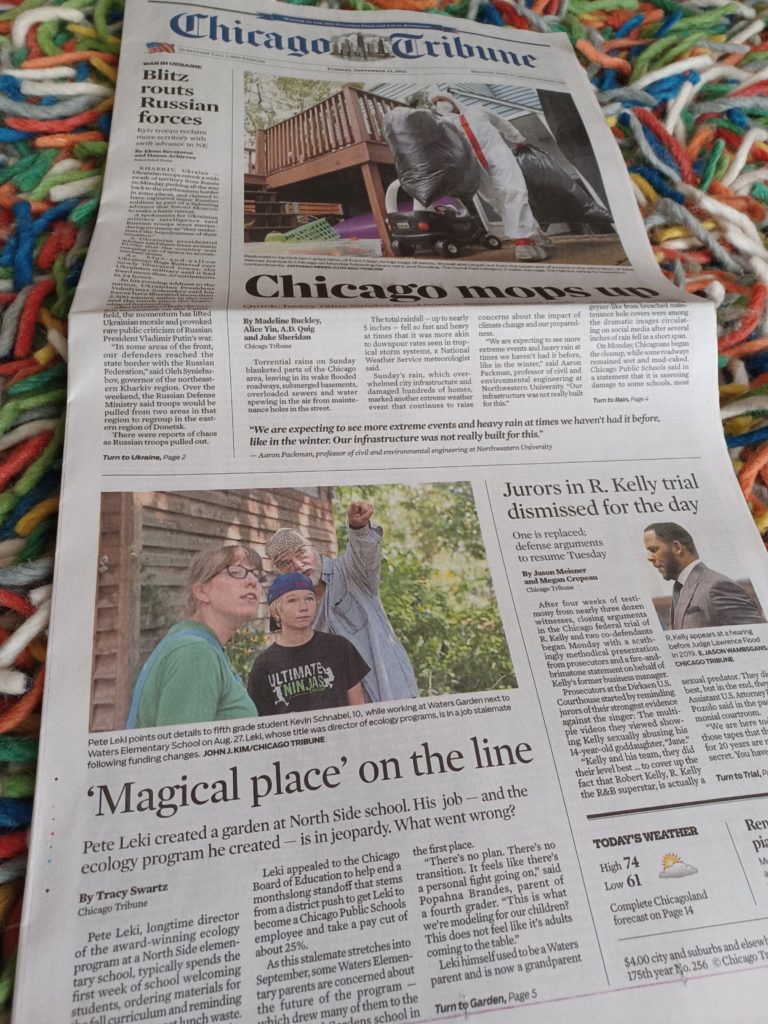 about the Sustainability Fair:
I met the founder of this event, Sherry Skalko, through work with the Green Council. She explained to me that the actual amount of material recycled was actually only her secondary goal in this project. She explained, if I remember correctly.., that the primary goal was for people to spend enough time learning about how to recycle that they become more motivated to create less waste, and for the waste that is created to be more recyclable and recycled. That sounds really good to me.
It looks like they could use some more volunteers, so please consider this as a possible fun thing to do with friends on Sunday. We'll be volunteering to support the North Center Sustainability Market before and after our riverbank workday, as part of our commitment to be role models for our children. Sherry asked people to use the signup genius form if they can, because it's helpful, but she also said to not let it be a barrier, that volunteers are welcome and the form is optional. Still, it only took me a minute of patience to sign up and I'm glad I did. It can feel hopeless to try to solve the problems of the world, but many of us in Riverbank Neighbors, years ago, took a personal pledge to be part of the solution to the problems the world faces in the climate emergency and other ways humanity struggles for safe, clean water, air, soil, and safety. So, one day at a time, we seek to do our best. If this sounds good to you, perhaps you'd like to join us Sunday.
-J
9-11 Riverbank at Berteau (east side)
before and after: volunteering at the Sustainability Fair (details below)
Sunday, September 18, 2022
9:00 AM 1:00 PM
Northcenter Town Square 4100 North Damen Avenue
https://reducewastechicago.org/
please try to bike or walk to these events, if possible, for the earth's sake.
no judgement on people who can't because their car is broken, their bike is broken, their foot hurts, or other reasons. we won't judge. we drive sometimes too, though we put some effort into planning not to. Advocating for safer street infrastructure that protects people walking and biking from cars is an essential element to that. Thanks to our Alderman for his leadership on this issue.